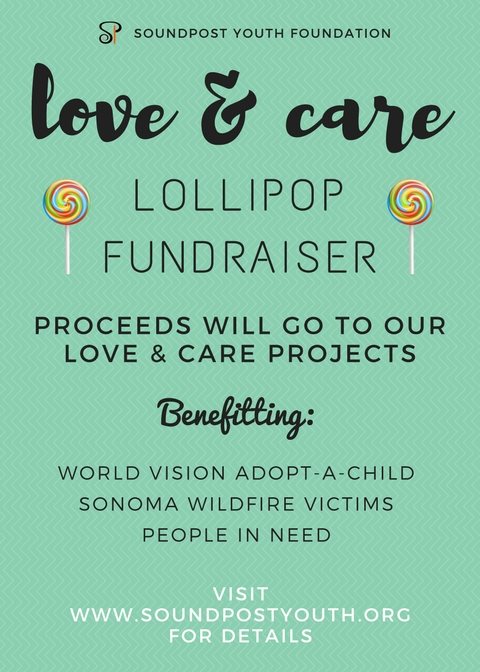 You can help in multiple ways
1. Buy lollipops from us
2. Make monetary donation
- Send check to P.O. Box 1371, Pleasanton, CA 94566
​- Paypal (3% Admin fee) Link
- GoFundMe (5% Admin fee) Link
Let us know if you'd like to support a specific project

3. Help spread words
Your generosity is greatly appreciated!
Connect us in Facebook!
---
---
Mission Statement

Our mission is to enhance the youth development by providing opportunities of community engagement, outreach programs, and a broad range of activities to educate and enrich their experiences toward lifetime success and fulfillment.

---

About Us

​The SoundPost Youth Foundation

was founded in the Silicon Valley in 2014 with the primary goal of creating a platform for its youth to utilize his/her talents - musical or otherwise - and interact with the community. SoundPost assists these students' developments by providing various activities for them to participate in, and in encouraging them to be independent and recognize their strengths. Through this community engagement and outreach program, SoundPost hopes that its members will gain self-confidence, face challenges bravely, be resourceful, give generously and establish a foundation for a well-rounded life.

The meaning of Soundpost

A soundpost is a small rod that can be found inside some string instruments. Although it is invisible to the eye, it is a very important part of the instrument, even sometimes referred to as the instrument's soul.

Current programs

SoundPost Love & Care program
SoundPost Community Engagement Program
SoundPost Youth Chamber Orchestra
SoundPost Youth Leadership Program

---

​Pallas Wang, Executive Director
From Passion to Action – Pallas believes that everyone has their own music, and she has always been passionate about helping youths discover that potential. Throughout her years as a business director and, later, as a guidance counselor, she provided support and advice to teens in order to guide them down their best paths. She currently works with teens as they face personal and academic challenges and assists students from first generation and disadvantaged background, ensuring that all youth receive an opportunity to strive for success and to pursue their dreams.
As part of her effort to help teens build a strong foundation for the future, she has led trips into undeveloped areas, where she worked with students to deliver food and to provide education to children there. These experience inspired her to drive the mission of SoundPost Youth by creating a platform for teens to get involved and give back. Her creativity, enthusiasm, and compassion have motivated hundreds of students, and she hopes to inspire more teens in the community to reach for their dreams and make a difference together. In her free time, she enjoys art, music, hiking, traveling, reading, and painting.

Megan Chen, Developement Director
Megan Chen received her M.M. in Piano Performance from the Rueil-Malmaison National Conservatory in Paris, France. After graduation, Chen started her teaching career at the Chinese Culture University, as well as teaching in various music talent programs in Taiwanese elementary and middle schools. Chen moved to the Bay Area in 2002, where she participated as a piano accompanist at De Anza College. She currently runs Megan & Ryan Studio.​

​Ryan Chen, Music Director
Mr. Chen is a concert violinist and a renown violin teacher. He received his Master of Music Diploma in Violin Performance from the Rueil-Malmaison National Conservatory in Paris. During his studies there, he gave many solo performances and performed with the Raspail String Quartet. Immediately upon his return to Taiwan, Mr. Chen was appointed Concertmaster of the Taipei Symphony Orchestra. He has performed in the United States, Taiwan, Russia, China and Europe. He has also collaborated with many orchestras as a soloist, including the Ballet San Jose Silicon Valley Orchestra, Taipei Symphony Orchestra, Taipei Chamber Orchestra and Chinese Culture University Orchestra. Mr. Chen relocated to San Jose, California in 2002, where he still leads an active life as both an educator and as a performer. His students have won many competitions and auditions throughout the Bay Area and in Taiwan.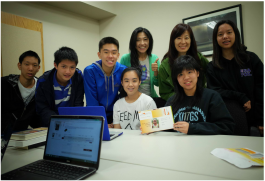 Thanks to all volunteering directors and the dedicated team
!
​Pallas Wang, Executive Director (
bio
)
Megan Chen, Development Director (
bio
)
Ryan Chen, Music Director
Lilian Lin, Treasurer
Grace Hung, Technology Advisor
Kandy Wang, Consultant
---